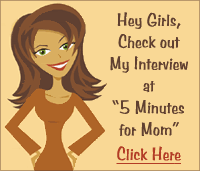 Yes! My
interview
is up at
5 Minutes for Mom
, a wonderful blog site owned by twin work-at-home moms, Susan and Janice.
They list Mom websites for free, and with your registration comes an interview.
There were a lot of questions but you can choose which ones to answer. I was quite stingy and I regret it now. I should have gone for the whole caboodle to make a more in-depth interview. Oh well. I wonder if there's a way to improve on it? I'll go and find out later.
This means that I'll always be listed in their Readers' Blogs under Writer Moms. That's something of real value because it's not just a simple link list. It comes with your photo and a short blurb you get to write about yourself and your blog.
I also like how I can find other writer moms from the list. They all seem to be so interesting and I intend to go visit each of them. And then I'm moving on to the other Mom blogs under the other categories. Boy, I can spend the whole day just exploring those blogs.
This is what I like about blogging. Even the task of networking to get more traffic for your blog is in itself so much fun. It's not a chore at all. In fact, I have to tell myself to write my own post first before I go networking or else I'll just go gallivanting around the blogosphere.
Mission accomplished for the day in this blog so I'll just have to post at
Cafe Romanza
and then it's bloghopping time for me. Yey!
-o-o-o-o-o-o-o-o-o-o-o--o-o-o-o-
Online money-making opportunities you can join for FREE:
- Send and receive money anywhere around the world with
e-gold
. Earn from referrals.
- Get
your own internet business
using a proven worldwide income system with a 20-year track record. No experience required. No risk.
-
AGLOCO
will pay you for just doing your normal surfing routine. You can earn even more with referrals.
- Earn $5 immediately just by signing up at
Paid Forum
. Earn more from each referral, each thread you start and each reply posted.
-
MyLot
also pays you to participate actively in their forum. Earn further from your referrals.
-
No-Minimum.com
pays you to click, read email, and sign up for offers. You also get paid when you refer new members.